Child Obesity ? Learn How To Maintain Healthy Weight For Your Kids
Is your kid gaining a lot of weight? Is he/she spending most of time binging on unhealthy food items? Lazying all day in the front of the TV?  Well, it's just not you but, majority of the parents are worried about their kids weight gain problem. Remember there's a thin line difference of being healthy and being obese. If you think your child has grown out of proportion and has difficulty in carrying out basic chores furthermore restricting his/her physical activeness, yes your child is obese. Learn about child obesity and how to maintain a healthy weight for your kid.
As a parent, few things may look cuter like chubby knees and chubby cheeks but only as a toddler not one when they are grown up. The weight gain hence, restricted your child's majority of the activities such as outdoor playing, participating in sports and so on. 
What Is Child Obesity? How To Maintain A Healthy Weight For Your Kid?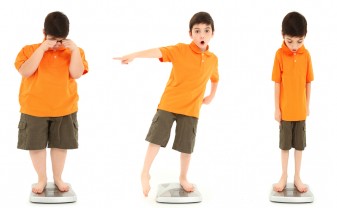 Childhood obesity affects an enormous number of families around the world, but the vast majority of these cases are preventable.  With support, encouragement, and positive role modeling, you can help your child reach and maintain a healthy weight.
Make Healthier Food Choices
Your Kid Is VeggiePhobe
The one that doesn't want to go within a kilometer radius of vegetables, this one can be hard to break but well worth your perseverance. Kids that eat veggies turn into adults that eat veggies with healthier body weights and overall diets.
It is reported that it can take up to 20 tastes of something before kids will accept some foods so you might think all your efforts are going in vain but it will be worth your trouble.
Don't be afraid to add some olive oil, light margarine or low fat cheese to veggies to make them more appealing. Having fun growing veggie gardens and heading to the fruit market also brings a new element of fun and hopefully an interest in the process.
The Carborater Kid
You will find too many processed carbohydrates like bread and biscuits will lead to a hungry child as these foods are high GI foods and digest quickly. A diet mainly consisting of processed carbs lead to nutrient deficiencies such as low iron and zinc levels.
A way around this problem is to include soft casserole meats, diced finely in a sauce or minced. Then you can progress from there.
Try also to substitute the carbs with more whole grain options, such as wholemeal instead of white bread, whole grain biscuits instead of sweet and muesli and whole wheat cereals.
Juiceholic Kid
Thirst should be quenched by water, not sweet juices or cold drinks. Not only are teeth constantly dosed in sugar but high juice intake can lead to obesity. Drinking juice or drinks like Coke usually takes the appetite away from eating food and it becomes such an addiction that water just doesn't cut it.
Try not to go cold turkey, begin by watering down the juice by halves and quarters. Make water fun by adding a straw or a special new cup that only water is allowed in, this might bring excitement to an otherwise plain problem!
Anything worth doing doesn't usually come easily, so do your best.  Good health is one of the most important gifts that we can pass on to our children.
The Sugarjunkie Kid
Our children are usually introduced to are sweet, and let's face it, we all love sweet!! Natural sugars are okay in the form of fruit but it's when we start eating too many foods that have added sugar, such as sweets and soft drinks that problems start. Like adults, kids can get on a roll and crave sugary.
Learn how to read food labels – 4 grams of sugar per serving is equivalent to 1 tsp of sugar. Keep the sugary items out of the house and set a limit to how much they eat. Treats are a part of growing up but our children don't need a nightly dessert or daily soft drink. 
Encouraging Kids To Participate In Outdoor Playing
Try to encourage kids to put down their indoor electronics and go for a walk, ride their bike, hit the playground, play recreational sports, and engage in all types of physical activities – especially with other friends. Kids tend to play more often and longer when they are with other kids so this is a great way to deal with your child obesity. 
Teach them some of the old-time favorite games such as running bases, capture the flag, tag, jump rope, etc. These games may appear silly at first glance but are great for kids to work on many skill sets. This includes running, agility, conditioning, strength, competitive nature, and strategic thinking.
FitaCon Educates You On Child Obesity & How To Maintain Healthy Weight
FitaCon event is Pune's largest fitness conference which has a lighthearted and practical approach to fitness that we seriously dig. It's a great combo of real talk, laughs, workouts, motivation, and more.
With a mix of science-backed workout tips, nutritious recipes, and further health and fitness tips FitaCon conference features with certified and knowledgeable key not speakers. They will be bringing smart, realistic and encouraging talks guiding and suggesting you with informative insights.
This largest fitness conference in Pune is perfect for those who are looking to lose weight, maintain healthier lifestyle for kids, learn about childhood obesity, eat a better diet, gain muscle, or achieve another fitness goal.
The event aims to bring together enthusiasts of both health and fitness for an informative and interactive session. The sessions will be focusing on:
Nutrition

Weight loss & Obesity related problems

Childhood obesity

Wellness and lifestyle

Yoga & spiritual health

Sports life & inspiration

Strength & weight training

Holistic health kids & teen fitness

Women's health

Active life for senior citizen
The event comprises of speakers who have ran Marathons and are avid health practitioners, climbed the Mt.Everest and have been fitness Gurus for years.
Hurry Up!! Register Your Seat
Connect with us
Get connected within 24 hours to pre-screened, trustworthy and small business friendly service providers for Services in top Indian cities