Creative Kids | Top 5 Ways To Support Enhances Your Child Creativity
Parents hardly acknowledged their creative kids.  Your child is already a creative genius by virtue of being human. Humans are far more creative than any other species.
Children start to demonstrate their creativity from at least the age of one by exploring objects. By two years of age, they can invent ways to use new tools on their own. And from around 8 years they can even invent their own tools.
Virtually all are creative kids, it's part of their nature. For so many parents, teaching children practical life skills—how to ride a bike, how to follow directions, how to respect others—often unintentionally takes precedence over creative thinking skills.
But fostering creativity in our kids is critical, too, and here's why – A child who is used to thinking creatively can more easily problem-solve than a child who follows a rigid protocol when searching for a solution to a problem.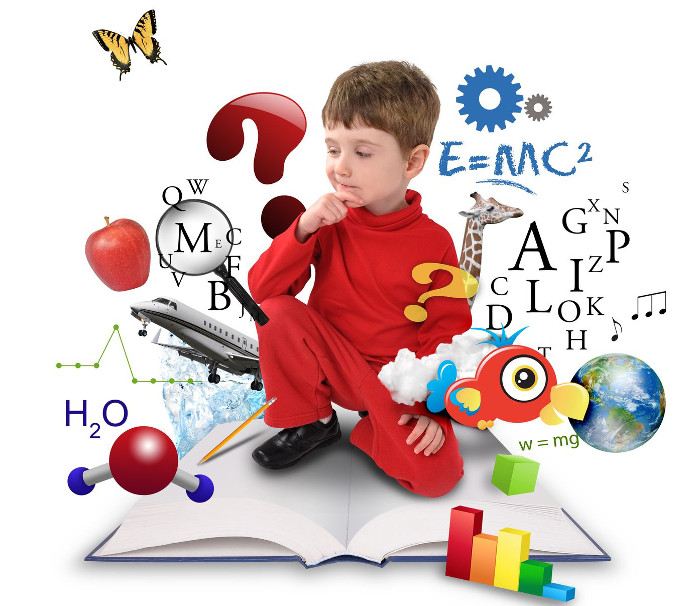 Raise Creative Kids 
Top 7 Ways To Support Your Child's Creativity
You might imagine creativity to include painting a picture, putting on a puppet show or making up a funny story and it does. But; there are actually endless opportunities to ask intriguing questions and model creative thinking in the routine.
In fact, raising a creative child may be easier than you think. Here are top 7 great ideas to get started with your creative kids:
Play Their Favorite Game
Play your child's favorite game together, but encourage him or her to come up with new rules. It will feel like a brand new game again. Encourage play with open-ended toys, a.k.a. toys that can be used in a variety of ways depending on your child's mood and imagination: for example, blocks, magnetic tiles, sand, dollhouses, dress-up clothes, matchbox cars, stuffed animals, and play dough.
Let Your Child Fail
If your child feels badly after failing at something, don't immediately tell him or her that it doesn't matter. Instead, ask questions: "Why do you think you didn't get a better score on the test?" This will give him or her a chance to think creatively about the experience so he or she can do better at the next thing.
Cultivate Creative Kids Thinking
As your kids get older, ask them how they approach certain problems and how they might do things differently, Children have an amazing innate ability to be creative when they play freely on their own, and unfortunately, the act of overparenting dampens or even wipes out that innate ability.
Activate Your Kids Creative Senses
Expose your kids to the world so they can use all of their senses. his doesn't mean costly or complicated trips.
Take them to the library, museum and outdoors, she said. Ask them to imagine what traveling to faraway places. For. e.g. such as the African safari, might be like. What animals would they encounter? What noises would the animals make?
Give Freedom To Your Kids 
Stop telling your kid what to do. Multiple studies have found that when parents have a high level of demands for their children and at the same time fail to be responsive to their kids' own ideas. The kids end up with lower levels of creativity. But, on the contrary, if parents are less demanding but more responsive to their kids, their creativity increases.
Understanding The Touchscreen Generation 
Many parents are strict about limiting their children's access to TV and computers partly because they believe these devices limit their creativity. But research suggests this is not necessarily the case. Indeed, let your child play with apps that allow them to express themselves. 
Researchers recently followed a small group of children in their homes and at school when using tablets. Therefore; using observational methods, they found that apps which allow children to write, paint, collage, draw and make music encouraged creativity in children. This was not only the case when playing with the apps, but offline as well.
So; clear your schedule to help your child record their next top 40 hit, or sit to have your portrait done.While a variety of research gives us clues about how to encourage creativity in children, there's still way more to learn.
Liked what you read? Wish to know more about child nutrition, health and fitness. Learn from the expert tips, suggestions from renowned pediatrics of Pune and implement those so that your kids can have a happy, fit and healthy childhood.
Register For  "Health, Nutrition And Fitness For Kids" Event 
Stay tuned for FitaCon's next event which focuses on health, nutrition, and fitness for kids.
FitaCon upcoming event focuses on " Health, Nutrition and Fitness For Kids" hence it will be the best of amalgamation of doctors and certified professionals from respective arena offering various tips, guidance and suggestions on health, nutrition and fitness for kids. 
Connect with us
Get connected within 24 hours to pre-screened, trustworthy and small business friendly service providers for Services in top Indian cities