Lose Weight After 40 ? - Tips To Stay Lean And Healthy After 40
Looking for ways to lose weight after 40? Don't let your dream of a fitter, healthier body fade just because you're getting older – Read on 10 weight loss tips for men over 40.
Losing weight as you age is a struggle for both men and women at any age. But for men over 40 who wish to lose weight can be challenging. Why? Because many of the most popular diet programs are designed for women. (LOL…yeah ..that's true!!)
Several experts discuss the challenges that men face when they try to slim down in their 40s and beyond. They provide great weight loss tips for men over 40 and wanted to stay lean and healthy.
Do men get harder to lose weight after 40? Well the answer is completely dependent on your lifestyle, the way you live and exercise. While some men over 40 workout rigorously, others might not also follow the same rules. Sure, some things change after 40. But the basic tenets of successful weight loss stay the same, no matter how old you are.
Today's lifestyle is aggravating this problem even further. However, there is no need to panic even if you have already tried some methods and techniques to lose weight. Follow these weight loss tips for men over 40 and you are sure towards the weight loss success. 
Tips To Lose Weight After 40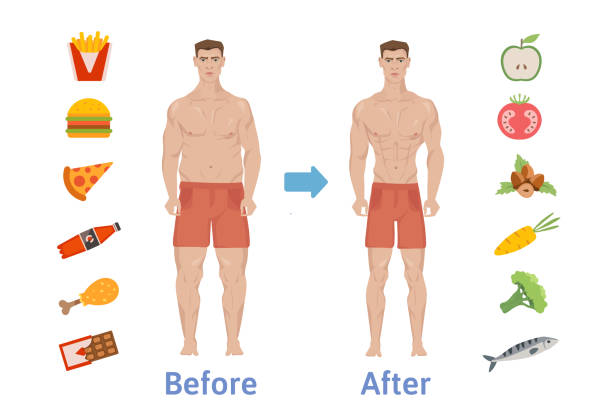 1.Start Your Day Early
Getting in some exercise on the early side may also help normalize your circadian rhythms, making it easier to get enough metabolism-boosting rest.
Even better, research suggests that early birds tend to be more optimistic and have less stress than their nocturnal counterparts, potentially reducing your levels of stress hormone cortisol, which can trigger belly fat storage.
2.You Need To Pump Some Iron
The easiest way to lose weight after your 40th is by adding some weight training to your routine. Packing some muscle can also make you less prone to falling, reducing your risk of a debilitating fracture.
Fuel up for your workouts and enjoy stronger muscles by adding proteins  for weight loss to your menu.
3.Boost Your Day With Fruits & Veggies
Because fruits and vegetables are rich in fiber, they are a low-calorie option that can help men over 40 feel full during weight loss–and fruits and veggies help prevent constipation, which is more common in older adults. Unfortunately, many Americans fall short of meeting fruit and veggie requirements.
4.Eat More Eggs
Starting your morning with some protein-packed eggs can help you shed that spare tire before you know it. A recent survey reveals that middle-aged study participants who started their day with eggs lost more weight than those who kicked things off with a similarly caloric, high-carb breakfast.
If you're worried that adding some eggs to your meal plan will raise your cholesterol, don't be; recent research shows that most people can safely consume up to three eggs each day without adversely affecting their cholesterol. In fact, scrambling 1-3 eggs per day resulted in an improved cholesterol profile.
5.Hack More On Salads
If you're having a salad, keep the dressing to olive oil and balsamic vinegar, and maybe a teaspoon of Parmesan cheese, but if you are able to resist, do not feast on it.  And keep in mind that there are other ways to get your vegetables, beyond salads.
Roast any veggies you like—cauliflower, carrots, and zucchini work well. Just cut into same-size pieces, toss in a plastic bag with some olive oil, instead of brushing them with oil, which saves some calories but still delivers the flavor.  For more help re-hauling your diet, register at FitaCon and hear our certified nutritionist giving you effective dietary tips and suggestions. 
6.Say No To Midnight Snacks
Cutting out those carbs later at night is really going to help lose weight. says Dr. Avanti Deshpande, a certified personal trainer, strength training specialist and nutritionist who will be taking session at Fitacon
That unused energy from the carbs is more likely to turn into body fat as your body is slowing down at the end of the day and less likely to burn them off."
Add to this that after 40 your metabolism starts to drop like a rock and you have some major challenges. Avanti advises you to cut out your eating after 8 p.m. or so, or at least be sure to stick with protein or vegetables that keep blood sugar levels down
7.You Should Eat For Your Hormonal Balance
Men's testosterone levels start to drop in their 40s, which can cause fatigue, sleeplessness, weakness, depression, as well as weight gain. But the right diet can influence this hormonal balance, according to Avanti.
Men should include egg yolks and foods that are rich in zinc in the diet, such as seafood, spinach, mushrooms, and lean meats, to boost testosterone production. They should limit or eliminate added sugars, which decrease testosterone, and also soy, which imitates estrogen in the body.
8. Load Up On Organic Food Items
A healthier body in middle age doesn't just mean eating healthy foods, it means eating organic ones, as well.
Organic food is key to maintaining the health of your skin as you age, helping you maintain your youthful glow in the process. It's very important to eat quality organic food loaded with antioxidants and minerals and avoid packed, frozen food items.
Being over 40 doesn't automatically mean that you now have to cut out certain foods to get (or stay) slim—unless you know deep down that a food is truly getting in the way of your goals. Regain control with these mindful eating hacks to lose weight after 40. 
9. More Is Good – Drink More And More Water
Don't assume that all water is created equal when it comes to your health. "Hydrate your body with quality water". Majority of the tap water is highly polluted, so make sure to drink quality water and infuse it with a pinch of Himalayan salt, lemon or decorate your water with mint leaves, ginger juice,berries, raisins, cucumbers or herbs like parsley for additional health detoxification properties.
10. You Need To Channel Your Inner Yogi
In case you are unable to go to gym or get into vigorous workout that's fine. You don't need to do high-intensity workouts to lose weight after 40. 
Fitness experts recommends doing lower-intensity workouts, like yoga, to maximize your fitness goals while limiting the cortisol-spiking stress response other workouts can cause.
A Word From FitaCon
If you are overweight and getting older, don't use your age as an excuse to give in. Weight loss tips for men over 40 is possible and provides countless benefits if you are currently carrying extra pounds. Stay active, stay connected with experts, certified doctors, nutritionists, at FitaCon to know how to lose weight after 40.
Discover Health Benefits At FitaCon
Most of us in everyday life stick to our typical workout routines and diets without ever trying something new. 
Fitacon is pune's largest fitness conference which will gather certified experts, doctors, nutritionists marathoners speakers. The keynote speakers will be speaking on the wide range of health, fitness and wellness topics. Additionally they'll be answering your queries, concerns, providing you with tips, healthy lifestyle habits to implement, suggesting various workouts that offers effective results and so on. 
Participate In FitaCon Event

Connect with us
Get connected within 24 hours to pre-screened, trustworthy and small business friendly service providers for Services in top Indian cities